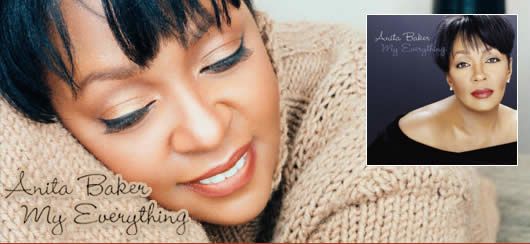 Hommage à une diva du soul-jazz, une chanteuse des années 80 qui n'a rien perdu de son talent ni de sa voix en or. Une voix grave, chaude, puissante et douce à la fois, avec un timbre particulier, reconnaissable entre mille. Ce n'est pas une star qui défraye la chronique, ni une bête de scène. On pourrait sans crainte la comparer à
Sarah Vaughan, Nancy Wilson, ou Ella Fitzgerald.
L'événement l'an passé fut la sortie d'un album, après plus de 10 ans de silence :
My Everything
, une réussite totale. Sans concession à l'air du temps, elle restitue un son soul-jazz comme on n'en n'avait pas entendu depuis longtemps.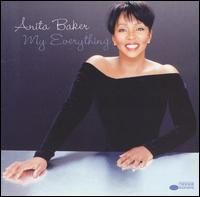 Venue du gospel, elle est vite repérée en tant que choriste ce qui lui vaut de chanter avec Miles Davis
("Bopping the Blues")
, Frank Sinatra
("Duets"
) et
Stevie Wonder ("Conversation Peace").

Son premier album solo date de 1983 et il est intitulé "The Songstress". Ce n'est pas le meilleur, mais il contient déjà, la Baker's touch. Trois ans après, elle nous ravit avec "Rapture", un disque que j'ai adoré et qui contient des perles comme "You bring me joy", "Caught up in the rapture" ou "Same old love".
En 1988, elle sort "Giving you the best that I got", avec un tube du même nom. Puis c'est "Compositions" en 1990 avec notamment "Fairy Tales", sans doute ma chanson préférée d'Anita avec "Caught up in the rapture". Enfin "Body and soul" en 1994 avec une reprise de "My funny Valentine" et "Rythme of love".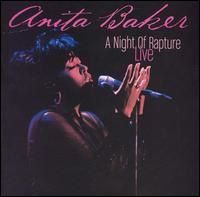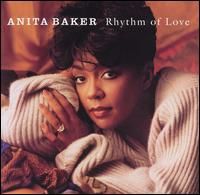 Avec Anita, on est bien loin des sophistications vocales et des bruitages des stars éphémères du moment. Elle est une des dernières représentantes de la soul-jazz dans toute sa pureté.

On peut télécharger légalement quelques extraits :

(You're my everything)
Fairy Tales (de Compositions)
Sweet love (deRapture)

Sur la page d'un fan, vous trouverez pas mal de liens de téléchargement
La page Anita Baker du guide Realplayer

Anita Baler - Fairy Tales Lyrics
I can remember stories, those things my mother said
She told me fairy tales, before I went to bed
She spoke of happy endings, then tucked me in real tight
She turned my night light on, and kissed my face good night
My mind would fill with visions, of perfect paradise
She told me everything, she said he'd be so nice
He'd ride up on his horse and, take me away one night
I'd be so happy with him, we'd ride clean out of sight
She never said that we would, curse, cry and scream and lie
She never said that maybe, someday he'd say goodbye
The story ends, as stories do
Reality steps into view
No longer living life in paradise - of fairy tales - uh
No, uh - huh - mmm - mmm
She spoke about happy endings, of stories not like this
She said he'd slay all dragons, defeat the evil prince
She said he'd come to save me, swim through the stormy seas
I'd understand the story, it would be good for me
You never came to save me, you let me stand alone
Out in the wilderness, alone in the cold
My story end, as stories do
Reality steps into view
No longer living life in paradise - no fairy tales - yes
I don't look for pie up in the sky, baby
Need reality, now, said I
Don't feel the need to be pacified, don't cha try
Honey, I know you lied
You never came to save me, you let me stand alone
Out in the wilderness, alone in the cold
I found no magic postion, no horse with wings to fly
I found the poison apple, my destiny to die
No royal kiss could save me, no magic spell to spin
My fantasy is over, my life must now begin
My story end, as stories do
Reality steps into view
No longer living life in paradise - no fairy tales - eh,
hey, hey - eee - mmm, mmm
Lord have mercy - ooo
ooo - mmm - oh Lord
-------------------------------------------
Anita Baker - Caught up in the Rapture
When we met, I always knew
I would feed the magic for you
On my mind constantly
In my arms is where you should be
I love you here by me, baby
You let my love fly free
I want you in my life for all time
CHORUS:
Caught up in the repture of love
Nothing else can compare
When I feel the magic of you
We stand side by side
Till the storms of life pass us by
Light my life, warm my heart
Say tonight will be just the start
I love you here by me, baby
you let my love fly free
I want you im my life for all time
CHORUS
Caught up in the rapture of love
Nothing else can compare
When I feel the magic of you
The feeling's always new
Caught up in the rapture of you
I love you here by me, baby
You let my love fly free
I want you in my life for all time
REPEAT SECOND CHORUS
Caught up in the rapture of love
Caught up in the rapture of love